OUR COMPANY
The improved health of over 750,000 people and our customers are the pride of NIHONDO
In the 53 years since its establishment, NIHONDO has taken a distinctly unique path, organizing a new type of business operation, the KAMPO COUNSELING PHARMACY, based on an independently established system of Kampo remedial learning, the "study of self-care by great nature".
Company Name

NIHONDO Co., Ltd.
Established

May 1969
Founder(Chairman)

Toshihiro Kawabata
President

Masae Kawabata
Location of Main

4-7-35 Kitashinagawa, Shinagawa-ku,
Headquarters

Tokyo, Japan
Capital

100 million yen
Number of
Employees

Employees: 186 <as of May 2022>
Services

Lines of business
*Kampo Pharmacy(consulting pharmacy)
[Kagae Kampo Boutique; Nihondo Kampo Boutique; Kusuri Nihondo]
*Kampo School
*Commodity distribution
*Online Retail Shop
*New products development
Main Banks

Mizuho Bank ; Resona Bank ; The Shoko Chukin Bank ;
Bank of Tokyo - Mitsubishi UFJ ; Sumitomo Mitsui Banking
Contact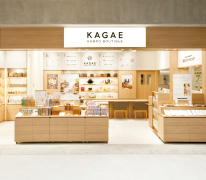 KAGAE KAMPO BOUTIQUE

- Beauty and Radiance with Kampo -
We provide complete beauty and aging care using a combination of Kampo and Aromatherapy, simultaneously treating our internal and external body. Our Natural Kampo Beauty Brand supports the healthy appearance that radiates from a healthy body.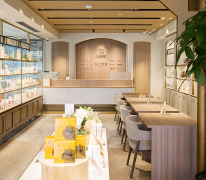 NIHONDO KAMPO BOUTIQUE

- Kampo into our lifestyle -
By making Kampo familiar and modern, we provide and promote a comprehensive "Kampo Health Lifestyle" as a means to a productive and enjoyable life. We offer many Kampo-based products and in-person services to help you reach your personal goals.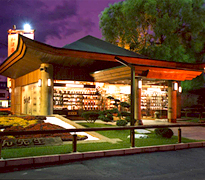 KAMPO COUNSELING PHARMACY

- Yojo First, Kampo Second -
The human body has a natural capacity for rejuvenation. Caring for oneself through a healthy lifestyle is crucial to maintaining the immune system and assuring effective recovery from illness. At the Kampo Pharmacy we offer support, instructions, and medicine to keep your health at its maximum potential.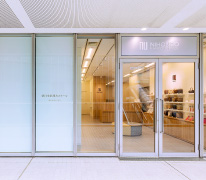 NIHONDO KAMPO SCHOOL

- Enjoy learning Kampo -
The goal of Nihondo Kampo School is to improve your personal ability to live a Kampo Healthy Lifestyle through education. In classes taught by our qualified professionals you will learn treatments, theory, and wellness activities that you can apply in your daily routine. There are many courses on a wide range of topics, from one-day seminars to qualification courses to become a "Kampo Stylist." These courses will allow you to better understand and appreciate the underlying ideas and philosophy of a Kampo Healthy Lifestyle.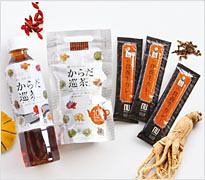 NIHONDO PRODUCTS

- Producing a Kampo Healthy Lifestyle
We collaborate with several companies to develop new products derived from ancient Kampo theory and medicine. These include "Karada-Meguri-cha"(Body Circulation Tea), a perennially popular blended tea produced in collaboration with Coca-Cola(Japan)Co., along with "Shoku-Yojo Curry"(Healthcare Curry) in collaboration with Morishita Jintan Co. Ltd. We also develop and sell many in-house products, unique to the Nihondo brand.